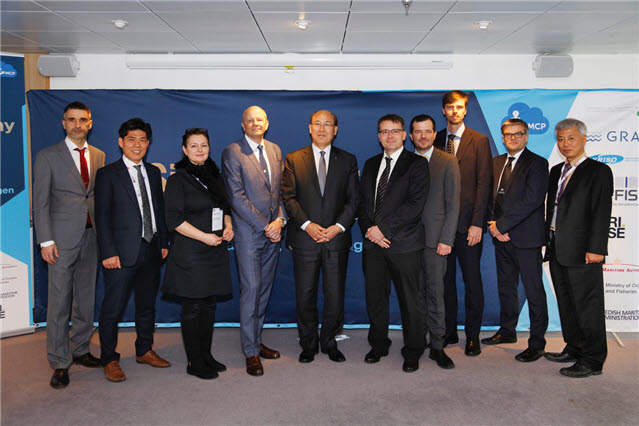 - A consortium will be organized for MCP standardization in maritime between Korea and the EU -
The Ministry of Oceans and Fisheries (MOF; Minister Kim, Young-Choon) announced the establishment of an international consortium on wide-use of and global standards for Maritime Connectivity Platform (MCP), an essential service for e-Navigation.

The consortium takes its initial step in Denmark on Feb. 8, 2019 consisting of 3 government agencies and 5 research institutes from 5 different countries including Korea, Sweden, Denmark, Germany and the UK.

As a year-round digital platform for e-Navigation, MCP will expectedly come to the fore in digital technology development in the global maritime and shipping & logistics including SMART logistics system and Maritime Autonomous Surface Ship (MASS).

MOF had devoted itself to MCP development with Sweden and Denmark for the last 3 years as a project of Korean e-Navigation Establishment with a plan to provide the service operated by MCP from 2021.

In particular, the consortium initiates its move during the e-Navigation Underway International Conference 2019 (Feb. 4-8) where a number of internationally-renowned officials and experts attend including Secretary General Lim, Ki-taek of IMO. This will facilitate universal use and standardization of MCP which is the foundation of Korean e-Navigation.

While the MCP consortium is comprised of the general assembly, council, advisory committee and secretariat, the Ministry plans to host the secretariat and the first inaugural meeting.

Director General Kim, Min-jong of Maritime Affairs and Safety Policy Bureau stated "MOF is willing to strengthen the international cooperation for standardization and industrialization of Korean e-Navigation technique. We will also redouble our efforts to create safer and more effective environment of maritime and shipping & logistics driven by the Korean technique".